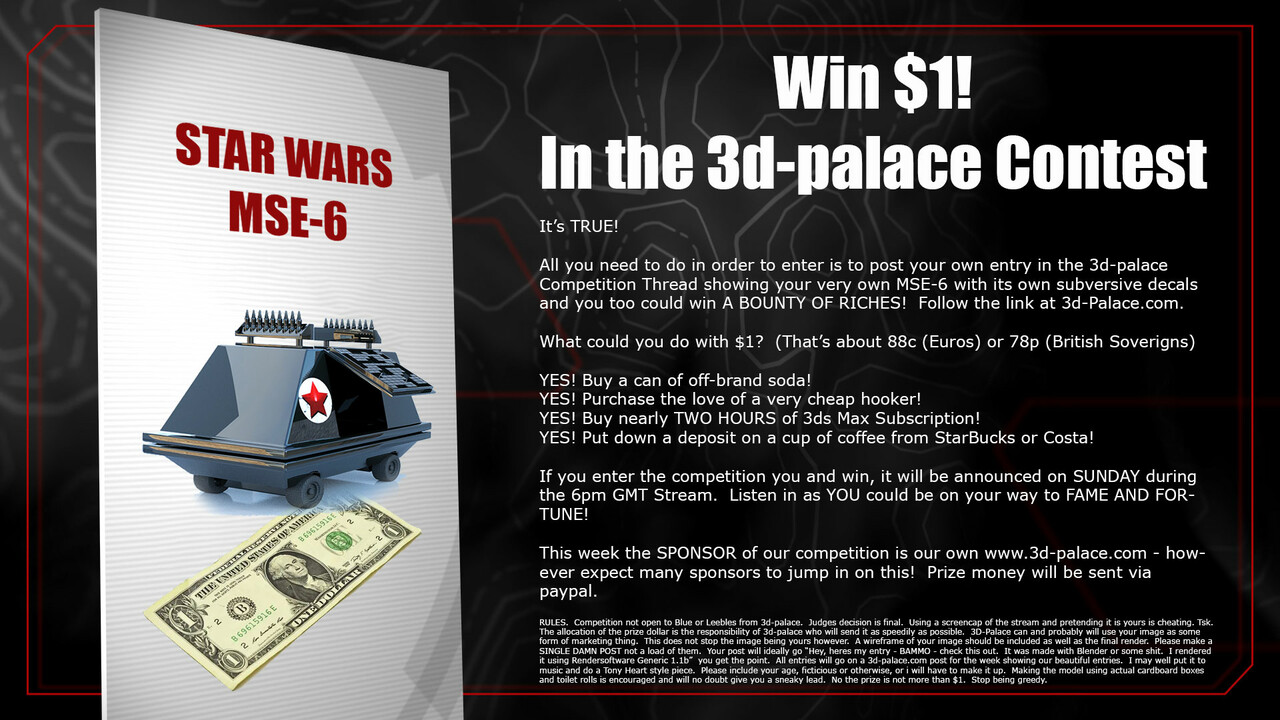 Easier to read blurb if you are too excited to get off the toilet and use a larger screen;
It's TRUE!
All you need to do in order to enter is to post your own entry in the 3d-palace Competition Thread showing your very own MSE-6 with its own subversive decals and you too could win A BOUNTY OF RICHES!  Follow the link RIGHT HERE RIGHT NOW YEAH!  
What could you do with $1?  (That's about 88c (Euros) or 78p (British Soverigns)
YES! Buy a can of off-brand soda!
YES! Purchase the love of a very cheap hooker!
YES! Buy nearly TWO HOURS of 3ds Max Subscription!
YES! Put down a deposit on a cup of coffee from StarBucks or Costa!
If you enter the competition you and win, it will be announced on Sunday during the 6 pm GMT Stream.  Listen in as YOU could be on your way to FAME AND FORTUNE!
This week the SPONSOR of our competition is our own www.3d-palace.com - however, expect many sponsors to jump in on this!  Prize money will be sent via PayPal.  
RULES.  
Competition is not open to Blue or Leebles from 3d-palace.  
Judges decision is final.  
Using a screencap of the stream and pretending it is yours is cheating. Tsk.  
The allocation of the prize dollar is the responsibility of 3d-palace who will send it as speedily as possible.  
3D-Palace can and probably will use your image as some form of marketing thing.  This does not stop the image being yours.  
A wireframe of your image should be included as well as the final render.  
Please make a SINGLE DAMN POST not a load of them.  
Your post will ideally go "Hey, here's my entry - BAMMO - check this out.  It was made with Blender or some shit.  I rendered it using Rendersoftware Generic 1.1b"  you get the point.  
All entries will go on a 3d-palace.com post for the week showing our beautiful entries.  
I may well put it to music and do a Tony Heart style piece.  Please include your age, fictitious or otherwise, or I will have to make it up.  
Making the model using actual cardboard boxes and toilet rolls is encouraged and will no doubt give you a sneaky lead.  
No, the prize is not more than $1.  Stop being greedy.
If you do not have PayPal we will attempt to pay your winnings by pushing the amount into the USB slot of our computer.